Our story — because everyone has a tale. What's yours?
Do you have a novel sitting in a drawer, a family memoir in the works, a collection of poetry or short stories you want to publish? Not sure if they're publishable or if anyone would want to read them? Tired of or intimidated by searching for an agent or publisher or learning the self-publishing process?
We founded TalesUp to provide a platform for exhibiting your work and ours and a resource for more permanent publishing paths should you wish to pursue them.
As an English major and a seasoned writer and editor, Betsy has always counted writing, art, and photography as critical to life and society. And like many of you, she has dabbled in personal writing projects and dreamed of publishing work that would be of value to others.
Being a 40-year veteran of migraine disease, for years she had wanted to publish a book of migraine art and literature, expressing what migraine disease is and how people live with it. In the meantime, she wrote and edited for two newspapers and then worked for nine years as an editorial manager, directing the entire editorial process and learning the publishing ins and outs for more than 75 full-color, hardcover, nonfiction books.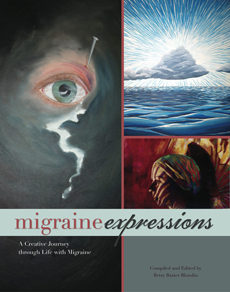 Early in 2007 the company folded, and we decided to at last publish that migraine book and start a freelance editing business. Migraine Expressions: A Creative Journey through Life with Migraine was published in summer 2008 and has received accolades from migraineurs and their loved ones and professionals in the migraine and headache field worldwide.
We want to help you publish your treasures if you don't know where to start or don't care to learn the publishing process. Migraine Expressions was published the old-fashioned way with a printing company and 2,000 copies. But now we have many options, including traditional printing, on-demand and e-publishing that can make your project less expensive and therefore less risky.
Please contact us anytime. We can and would love to help you get your work published!